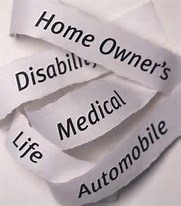 The idea behind insurance (protection) is simple: we know things can go wrong, so we want to minimise the financial impact to yourself when they do.
Many people either spend more than they need to or leaving themselves and their families vulnerable by selecting the wrong product or a product that does not offer the correct amounts when needed. This is because it's hard to guess the impact of an unwanted event such as accident or illness. And that makes it difficult to tell if an insurance product is good value for money. People may be mis-sold protection products when they don't fully grasp these key factors, while others may be put off such products altogether – with potentially even worse consequences.
This is where an independant financial adviser can prove invaluable. The independent Financial advisor offered by Building Assistance Australia can conduct a full assessment of your income, outgoings and assets, your lifestyle and your needs both now and in the future, while identifying your biggest risk areas, and all at no cost to yourself. This means that, instead of taking out insurance just because it is offered, you can create a protection plan tailored to you. Such a plan will focus on your priorities, rather than on less-critical areas where you might be able to provide your own safety net, e.g. from savings.
By working our your needs and with the help of an independent adviser, you can gain maximum protection (insurance) at the minimum cost. Your adviser can source the best-value products for you from the whole of the market and compare as an educated professional on your behalf, ensuring you are offered the correct product.
Why have insurance?
You may be thinking 'who needs life insurance?' Simply, if you have a family who is financially dependent on you and/or have debts that are serviced from your income alone, you should consider the peace of mind life insurance may bring. Obviously, the greater your financial obligations and the more dependants you have, the more insurance you may need to protect your assets and your family's financial security.
Life is full of uncertainty and often the unexpected can occur. The death, injury or illness of a loved one can place an enormous strain on a family both emotionally and financially. Have you considered how your family would cope financially, if something were to happen?
Having a financial safety net in the event of sickness, disability or death can help ensure you and your family are protected during a difficult time.

Get a FREE no obligation consultation
Total and permanent disablement (TPD)
TPD cover provides a lump sum if you become unable to work due to a permanent disability. This cover can help you pay for medical expenses, repay major debts and help provide for your future.
Trauma cover
Trauma cover provides a lump sum if you're diagnosed with a medical condition or undergo a procedure outlined in your policy. This may include a heart attack, major organ transplant, cancer or stroke — to name a few.
Trauma cover is designed to help cover your medical costs and living expenses, providing you with some financial security during the important recovery period.
Death cover
Death cover may be important for people of all ages, especially if you have others relying on you and large debts such as a mortgage.
Death cover provides a lump sum to your beneficiaries if you die. This can be used to help meet the costs of your mortgage, other debts and/or cover your family's future expenses. Many policies make an advance payment of the insured sum if you are diagnosed with a terminal illness.
With Death, Total Permanent Disablement and Trauma cover you can:
Find comfort in knowing your family will receive a lump sum payment to help them financially if you were to die or become terminally ill.
Receive financial support if you become seriously disabled, maintain your quality of life and help meet the cost of rehabilitation programs and daily living expenses with TPD insurance.
Take the financial pressure off and give yourself time to recover, should you experience one of the traumatic events listed in our trauma cover, including cancer, stroke, heart attack and coronary artery surgery. Children's trauma cover can also be selected.
Income Protection Insurance
You insure your car, the family home and even your health – so why not your ability to earn an income.
Have you ever thought about what would happen if you became ill or were injured and couldn't work for an extended period of time? Would you be able to meet your financial commitments without your regular income? If not, it's time you considered income protection.
When you think about what life would be like without your regular income, your earning capacity becomes possibly your greatest asset. Chances are, you've based the achievement of your goals and ambitions on having a regular cash flow. If you became ill and were unable to work and maintain that cash flow, your goals may no longer be achievable.
Business Overheads Insurance
What would happen to your business if you were too ill or injured to work?
Business Overheads Insurance helps you meet your ongoing business expenses by reimbursing eligible business overheads as a monthly amount if you are too ill or injured to work.
Protect your business expenses
Recover with peace of mind knowing that, if you are unable to work due to injury or illness, your business overheads insurance will reimburse your business expenses such as:
Rent
Property Rates
Vehicle leases
Salaries
"Before doing anything about your life insurance & income protection … Get a FREE no obligation quote