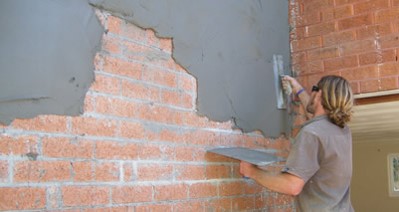 Applying render to your brickwork not only transforms the look of your home, it also adds value to your property.
But there's more to rendering than meets the eye. Mistakes are expensive, and with entire sections vulnerable to collapse, something best left to the professionals.
If you're looking to install or repair rendering, Building Assistance Australia is here to help. After an extensive search, we've put together a list of highly trained and experienced renderers ready to quote you on your new project.
Get a FREE no obligation quote
Types of rendering
Pebble Dashing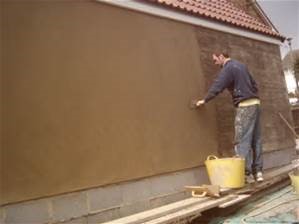 A two coat rendering system – using sand and cement or polymer render – Pebble dashing can be used on most common backgrounds. Strong and durable, Pebble dashing is available with a wide choice of dashing spars. Benefits include:
Natural quarried aggregates
Huge choice of colours
Durable and hard wearing finish
Traditional Flat Render
Consisting of sand and cement, this popular render has been around for years. We use a two coat system incorporating a scratch coat and top coat, which is finished using a wooden float.
Modern Flat Render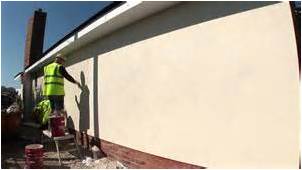 Modern flat render is a one or two coat (depending on background) rendering system which is pre-mixed. The traditional redner appearance is then created by only adding water. It has a number of benefits including:
Can be used on a most common backgrounds
Provides a traditional render appearance in less time
Excellent water resistance and durability
Less cracking and allows the building substrate to breathe
Can be applied by machine or hand
Textured / Acrylic Render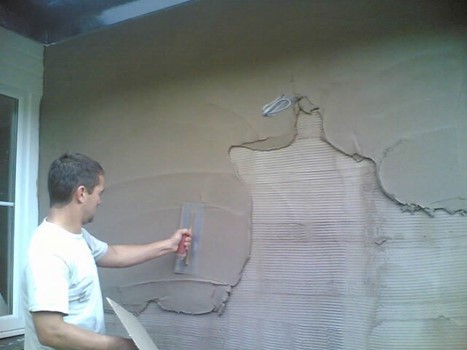 A coloured decorative render, Acrylic is a durable coating that has a high resistance to weathering and is also water repellent.
Boasting a flexible anti-crack formulation and UV resistance, Acrylic Render can be applied straight on to existing flat render.
Benefits of Acrylic Render include:
Pre-mixed render available in over 1000 colours
Extremely high flexibility qualities
High Bonding adhesive to existing backgrounds
Vapour permeable which reduces condensation and allows building substrate to breathe
Maintenance free with no need to paint
Free from ecologically harmful ingredients
Through Coloured Render / Scratch Render
A one coat through coloured external render system which offers a high level of water resistance. Requiring no maintenance, this highly durable finish can be applied to brick, block or stone walls.
Benefits include:
Machine applied one coat ensures fast application
Available in a wide range of colours
Maintenance free with no need to paint
High level of silicone ensures water resistance
A+ Green Guide rated
Insulated Render Systems
Insulated Render Systems are commonly used on single skin or solid substrates with no cavity, therefore improving the thermal value of your property.
Benefits include:
Reduces unnecessary heat loss and CO2 emissions
Reduces condensation / black mould to internal walls
Protects and prolongs the external fabric of your property
Offers high impact resistance and weather resistance
Insulation thickness ranges between 30mm-100mm
Acrylic / Textured render system can be applied as the finishing coat
Available in a wide range of colours
Maintenance free with no need to paint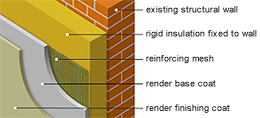 Reduces unnecessary heat loss and CO2 emissions
Reduces condensation / black mould to internal walls
Protects and prolongs the external fabric of your property
Offers high impact resistance and weather resistance
Insulation thickness range between 30mm-100mm
Acrylic / Textured render system can be applied as the finishing coat
Avalable in a wide range of colours
No need to paint / maintenance free


[contact-form-7 404 "Not Found"]