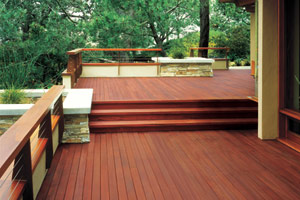 Garden decking is a great addition to any home, but to keep it looking the part requires some attention. Without proper care, decking garden easily become discolored, grimy and slippery. But looks is just the half of it, as an improperly cared for deck will also suffer from a significantly decreased lifespan – with timber warping and screws rusting well before their time.
Unfortunately, not everyone has the time and effort to care for their deck – that's just how life is! Thankfully, Building Assistance Australia has secured the services of trusted & experienced deck maintenance companies to take care of this for you.
What Causes Deck Discoloration?
Any timber that's exposed to the elements will eventually turn a grey colour. This discoloration is caused by ultraviolet rays which react with the timber, and once this happens a simple clean won't restore the colour!
However, there are other reasons your deck may lose its colour – and this depends on the area you live, the materials used and other environmental factors.
The most common cause is atmospheric dust particles, overhanging tree debris, bird droppings, pot plants and barbeque debris!
Biological degradation of decks include fungal activity, moulds, decay, and in shaded areas – algae or moss.
Stains from unsuitable fittings can also cause problems such as un-galvanized nails, screws and bolts.
Many of these issues can be prevented with simple house-keeping. For instance, placing pot plants in moisture-proof trays, cleaning up after using your barbeque and regularly sweeping and washing your deck to avoid a buildup of debris.
Do It Yourself Deck Maintenance
There is something very rewarding about maintaining your own deck, and if you have the time it's well worth learning to do properly. Before treating your deck, it's important that the deck is thoroughly cleaned. If you're unsure or don't have the proper tools & kit, seek assistance from a professional decking company.
Deck maintenance can be broken down into three key areas:
How to Clean a Deck
Clean: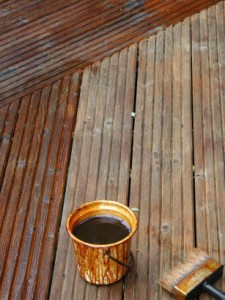 Before you begin treating or staining your deck, you must thoroughly clean it first. Your local DIY store or decking specialist will have a variety of preparations that a suitable for cleaning your deck.
Other suitable cleaning substitutes include a weakened solution of TSP (trisodium phosphate) which can be obtained from any good paint shop. This solution is used by pro painters to clean paintwork. All you need to do is add a little household washing-up liquid to ensure a deep penetration. As with any first-time cleaning, try a small area first and use as directed on the container.
Pro Tip: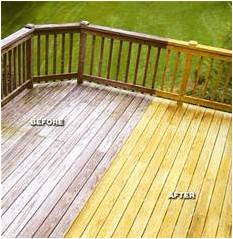 Do not use any chlorine based bleach! While it will clean your deck of algae and mildew, it will also break down the lignin in the deck timber – which holds the wood together!
To brighten up old greyed timber, try a weak solution of Citric Acid. This is a great way of cleaning your deck without the need for harsher chemicals.
If you have it handy, Hydrogen Peroxide will do wonders for lightening old timbers and is particularly good for older darker deck timbers as it evaporates away and leaves no residue.
If your deck is suffering from fungus/mildew, a general garden variety fungicide will do the job. Plus, if you use a combined Fungicide/Insecticide, you'll also kill of many 'hidden' insect pests lurking beneath the timber. Remember that this treatment simply eliminates fungus & mildew – it does not lighten wood or "clean" it of dirt.
Finally, a jet washer is another simple way of cleaning your deck – but be sure it's not a heavy duty one! Ideally, you want something smaller than 1500 psi with a wide fan jet. Using a more powerful jet will destroy the wood fibres, leaving the timber with a 'wooly' finish – and that's very difficult (if not impossible) to clean and treat.
Restore: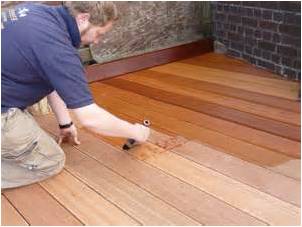 Now that your deck is clean, it's time to consider a suitable long term treatment to help enhance and protect the timber. Although this treatment will protect your deck, it's still imperative that you continue to regularly clean the surface.
By regularly cleaning your decking, you help prevent a buildup of dirt & dust in the minute, honeycomb-like cells. Because unlike other timber structures used in construction that are often vertically placed, horizontally placed timber simply collects anything that falls onto it.
This is where decking oil can help by capping that cell structure. Remember, ordinary deck stain simply colours the surface area of your timber decking – it does not fill up the cells and protect from unwanted gunk getting in!
Protect:
Decking oil is a special treatment that solidifies as it dries, helping to fill the timber cells and preventing the accumulation of dirt within those honeycomb-like structures.
The efficacy of decking oil is in how it works. Because it's an oil and not a polyurethane or varnish, it's able to expand and contract naturally with the timber throughout the seasons. What's more, decking oils work to replace the natural oils and resins that get lost over time.
When applying decking oil, make sure it's applied thinly and well brushed out in two coats using a soft-haired paintbrush. The soft-haired option will allow for even spreading of the deck oil and also act as a sponge to mop up any surplus oil – avoiding pooling which delays the drying process.
In ideal weather conditions, the first coat should dry within an hour. However, a second coat is necessary to further protect the timber and to enhance the colour (if you're using a tinted oil).
If you do select a coloured oil – and it really does add impact to your deck – then always choose a lighter colour if you are uncertain. The reason for this is simple: it's much easier to darken a lighter colour than it is to lighten a darker tone.
Of course, if you would prefer your deck is cleaned, restored and protected by a professional decking expert, simply follow this link and get your free, no obligation quote.