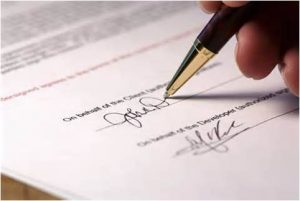 Contracts When you are happy with your choice of builder they will ask you to sign a contract. You may be told that the contract is of standard form and that all contracts are the same, this is not the case. Whilst many builders use the standard form contract, each and every contract is unique and is designed to represent your specific requirements. Beware of contracts which are drawn illegally and include unlawful provisions which may attempt to strip you of your legal rights.
Some contracts put forward to homeowners by builders attempt to obtain acceptance of the terms but include provisions which allow the builder to practice outside of the allowed practices as per the Building Code of Australia so the builder can, "with your consent", not build your home to the recognised standards and instead, employ a less expensive and often unproven, prone to fail method or alternative solution.
The purchase and build of a home is nearly always the most expensive and important purchase and therefore deserves the upmost attention to detail. Building Assistance Australia recommend using our solicitors to check your contract. (Link to quote form).
Domestic Building Contracts
Fences/ easements
Adverse Possession
Strata/ Owners Corporation (formerly body corporate)
Appealing COURT (VCAT FOR VICTORIA) decisions
Domestic Building Contracts
For: owners, owner builders and developers who engage builders/subcontractors.
These are the 5 key things to keep in mind BEFORE you sign..
Regardless of your role in a domestic building project, ensure you are 100% happy with the terms of your contract before you sign and are locked in.
1. VARIATIONS TO YOUR DOMESTIC BUILDING CONTRACT:
To avoid unnecessary price escalation of your fixed price Domestic Building Contract, it is best practice to avoid variations , however this is not always possible.
Varying the contract after it has been signed escalates costs. You will be charged for the cost of the variation, builder's margin and GST that will be added to the next progress payment. If the variation happens to allow for a credit, you will receive the cost of the credit plus GST which will be deducted from the final payment.
2. SPECIAL CONDITIONS
Special conditions are those terms that are added to the standard terms and conditions contained in the usual HIA and MBAV standard form contracts. Usually they are written into the contract by hand. You should always seek advice before signing a contract with special conditions so that you understand the legal implications of those provisions.
3. NO CHARGING CLAUSES- YOUR BUILDER CANNOT HAVE EQUITABLE INTEREST IN YOUR LAND:
A charging clause is a provision in the Domestic Building Contract which provides the Builder or Contractor with an interest in your land which in turn allows them to place a caveat or charge over the title of your land in order to enforce any outstanding debts. It is illegal to have such a charging clause in your Domestic Building Contract.
However it is legal for your builder to enter into an independent agreement with you so that he/she may lodge a caveat over your property, if you agree to do so.
4. COST ESCALATION CLAUSES- WHEN A "FIXED PRICE" CONTRACT IS NOT REALLY FIXED:
A "fixed price" contract does not necessarily mean that the total price of the Contract may not increase. The builder or contractor may still rely on any number of standard clauses to increase the price of the contract.
Provisional Sums, Prime Cost Items, Variations, and interest on overdue payments.
In particular, be weary of any Provisional Sums in your contract, which are works for which the builder or contractor is unwilling or unable to provide you a fixed price for. A provisional sum by law should be a reasonable estimate of such works. However, if the provisional allowance does not cover the cost of the works, you as the owner or owner builder must pay the additional cost of the work together with the builder's margin. Hence, provisional sums should be avoided where possible.
5. LIQUIDATED DAMAGES & DELAYS
Liquidated damages clauses are included in contracts to account for any delays and in turn you should be placing the figure that represents your loss of rent, extra running costs and any other costs which result from delays. Each stage of the build should be noted in the Domestic Building Contract, and an exact completion date should be outlined.
In many cases a builder will provide an estimate of the number of days it will take to complete the build, however they may not outline an exact date for completion. It is of the utmost importance that this date is provided so as to avoid any misunderstanding of the completion date later and that if there are any unreasonable delays, liquidated damages can be sought.
If the builder requires extra time to complete the build, they must provide a notice requesting an extension of time, in accordance with the Domestic Building Contract You have a time period to which you can accept or not accept the claim for the extension of time.
It is not uncommon that building work is delayed. There are a variety of factors such as supply of materials or bad weather which cause reasonable delays, but unfortunately delays usually result in loss for the homeowner.
Loss resulting from delay may include loss of rental or extra rental paid, interest incurred and loss of a sale.
In summary, to ensure that liquidated damages works in your favour as a result of delays caused by the builder, the contract should include the following:
Set completion dates or at least provide the number of days for the construction work to be completed.
Extension of time provisions upon application by the Builder of Contractor upon certain events occurring that are not the fault of the Builder or Contractor.
The figure representing your genuine estimate of loss should completion be delayed.